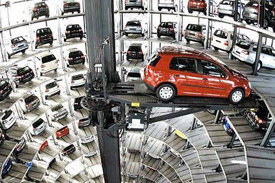 Vaahan Stack Parking Solutions is an ISO 9001:2008 certified company offering wide range of innovative products for all your car parking and car service requirements.
We at VPS have a strong manufacturing and engineering team to tailor to your unique space constraints and are committed to offering the best solution and service backup for our products.
We are determined to provide existing businesses with improved capacity car parking without much changes to their infrastructure and have a team of professional engineers and architects working in tandem to cater the best possible solutions to enhance your business. Additionally, these parts also go through rigorous in house testing and validation to ensure reliability and maintenance free performance.
Vaahan Stack Parking Solutions came into existence in the year 2011 and is a one stop shop for all your car parking and car service requirements. We are specialized in manufacturing and engineering unique space constraints with various specifications. Vaahanstack Parking Solutions is in the process of creating 500 car spaces in 2013-14, with our valued customers in chennai and bangalore. Our target figure of 2000 car spaces in 2014-15 is further strengthened by our very promising indegenously developed tower parking concept with class leading retrival time and the lowest per car space cost for any automated parking tower will be the first of its kind in INDIA as well as abroad.